Celestial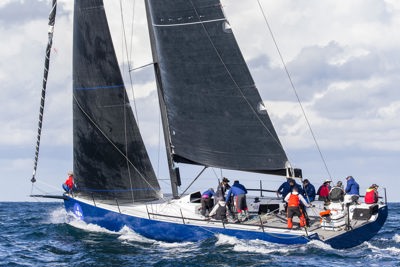 Sam Haynes bought his latest Celestial, the former Audi All4One/Beecom/Temptation III, in the run-up to the 2019 Rolex Sydney Hobart and placed 14th overall that year.  The TP52 raced on the MedCup circuit before Chris Dare bought her in NZ and renamed her 'Ambition'.  Having experience with the yacht now, Haynes, a vet and a CYCA director, is looking to replicate the incredible success enjoyed with his previous Celestials and started by winning February's 55nm Summer Offshore Series Virtual Mark Race and also won CYCA's 2021 Summer Offshore Series and placed seventh in November's Flinders Islet Race.
In 2018, Haynes sailed his former Celestial to 17th in the Hobart (second best placed TP52 after Ichi Ban), to finish the Blue Water Pointscore (BWPS) second to Ichi Ban. In 2017 he placed ninth in the Hobart to finish runner-up in the BWPS. In 2016, he was 16th for a divisional third, and in 2015 placed 29th for divisional third (his first Hobart with the yacht).  With another former Celestial, a Rogers 46, Haynes was second in the 2012 BWPS and won all three (IRC/ORCi/PHS) crowns in the 2014 BWPS - one of the closest on record - including winning the 2014 Sydney Gold Coast race and finished 11th overall for second in Division 2 in the 2014 Hobart, following on from third overall in the 2013 race.  Haynes and crew have the runs on the board that make them contenders for the Tattersall Cup.
Competitor Details
| | |
| --- | --- |
| Yacht Name | Celestial |
| Sail Number | SM9535 |
| Owner | Sam Haynes |
| Skipper | Sam Haynes (10) |
| Crew | Troy Grafton (19), Richard Bott (7), Callum Cecil (8), Johnny Warren, Will Howard (16), Richard Howard, Keith Groves (6), Wulf Wilkens (1), Malcolm Parker, Jack Macartney (8), Lachlan Hornsby (3), Ben Rice (5), Lewis Brake (1), Chris Dagger |
| State | NSW |
| Club | CYCA |
| Type | TP 52 |
| Designer | Judel/Vrolijk (Ger) |
| LOA | 15.9 |
Full Standings available approximately three hours after the start.